When it comes to social affairs, the French really got it right. From style through cuisine, they have mastered the art of carefree luxury portrayed through simplicity, elegance and quality leaving the rest of the world in admiration and curiosity of their effortlessness. And although one might not achieve such an appearance on a daily basis, it is essential to seize the opportunities that allow us to play dress-up for an evening of carefree opulence complete with champagne, an air of exclusivity and about 200 of your closest (or soon to be) friends.
It's no secret that I always have a need to be somewhere that I'm not, an addiction to travel. It's why I live for the summers in Toronto. One, because it's the only time the weather cooperates with my plans and two, because every neighborhood of Toronto has a street festival. And although that will never (seriously) compare to traveling the world, it gives you a solid taste (literally) of the spirit and culture of each country. While the French culture represents well here in Canada (given that the French roots run as deep as early 1600's), a real taste of the Parisian life here in Toronto comes from events hosted around the city by Aperochic, an ex-pat created, Paris-inspired exclusive night on the town in the most French way imagined. It's a night out at one of Toronto's hottest elite clubs, giving you a taste of that effortless elegance in a night of fun. A night to let loose – Paris style! It's a night to bring some friends, dress up, and for a moment, forget that you do not in fact live in the land of baguettes, cheese and champagne.
Last week my friend E and I attend exactly such an event. It was after a long day at work on a Thursday night and offered the most perfect kind of escape possible. Let's just say, if you have ever been to Cabana Pool Bar, you are only halfway there. Nothing compares to watching the sun set behind the skyline, champagne in hand, watching the work day just slip away. That magical time when golden hour casts its regal rays, as gold as the champagne being toasted, on a crowd dressed in white, enjoying down time poolside with friends. It was like something out of a magazine. You could smell the comfort of a warm summer day and feel the electricity as it transformed into a vibrant summer night, complete with that regal Parisian touch that you can't help but crave thereafter. It's that one day per month where you can have your fill of that elite society life presented in such a laid back and affordable way, it has you convinced that you could pull this off as a lifestyle. And finally, when you have had your fill, you bid the night bonsoir, enveloped in the grace and energy that inspired you throughout that evening. It's that je ne sais quoi that brings a smile to your face throughout the following workdays and the extra energy you needed to make it to the weekend.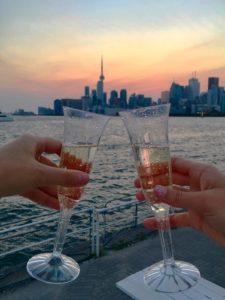 C'est la vie!