Last long weekend (which I further extended), I decided that Paris was a good idea and so I got on a new budget airline and shipped myself off to the land of bread and cheese. I spent the next 4.5 glorious days popping into every boulangerie, pâtisserie and fromagerie in sight and spent full afternoons at sidewalk cafés sipping on lattes, champagne and rosé, just admiring the incredible architecture.
Arriving at the hostel felt more like walking through the gates of a palace rather than the doors to my budget accommodations. Granted the reality of communal showers and a dorm room of ten bunk beds set in shortly after arrival, but with each morning, the princess moment returned as dawn broke and daylight began flooding the room through the courtyard-facing French window.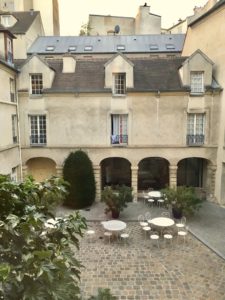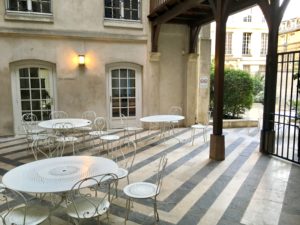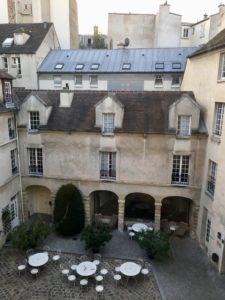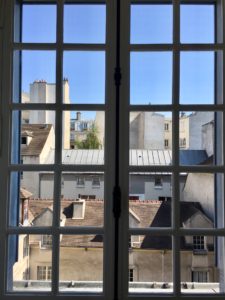 Despite my better judgement, I spent the entire afternoon of my first (jet-lagged and exhausted) day walking the city core justified by the intention of just passing through and entirely powered by macarons and insanely delicious Parisian coffee. I wandered to a department store rumored to have the best rooftop in town and, well, I have a well-known addiction to rooftop establishments. Naturally, I had to make this my first stop. And believe me, it was definitely worth my time. I sat at a terrace restaurant overlooking the Eiffel Tower and a city full of rooftops as I sipped on champagne (which the waiter topped up because he said liked my smile) and wondered how in the world life came to be this amazing.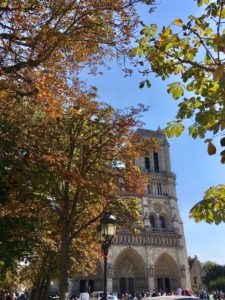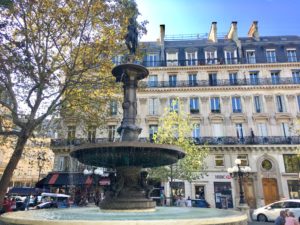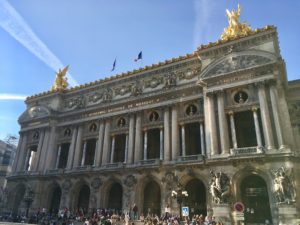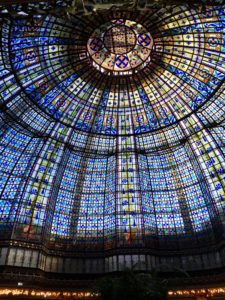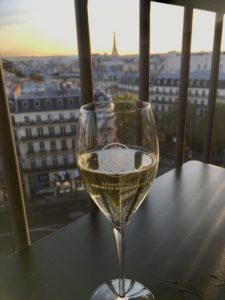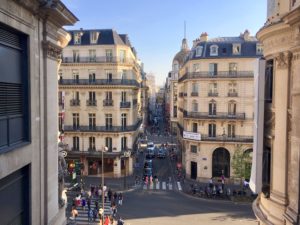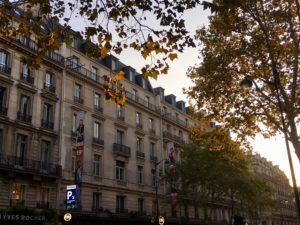 I walked along the river on my way "home," taking my time and photographing literally every building I passed, completely enamored by Parisian architecture. I stopped on a bridge to watch the Eiffel Tower shimmer in lights as the sun set, and then continued along the river, watching communities get together to dance, families stroll and friends gather for bottles of wine. It was the official summer meeting place. The place to go after work, school, or just a long day walking around the city. Of course, I participated. I stopped by one of the pop-up bars along the river, got a plastic flute of rosé and sat at one of the colorful bistro tables. I spend the next two hours refilling my glass and people watching, unable to tear myself away from the atmosphere. The air was crisp and fresh. Summer was ushering in the fall season but everyone was in denial, welcoming friends, bringing bottles of wine and dancing to any music within earshot. I was on cloud 9.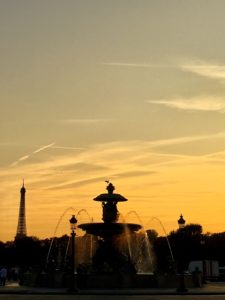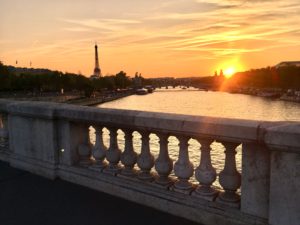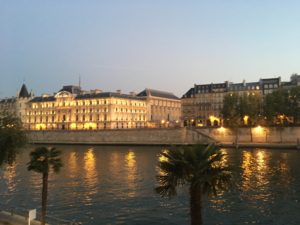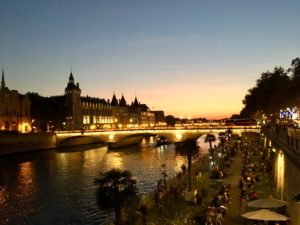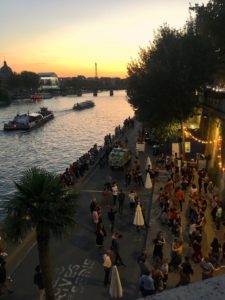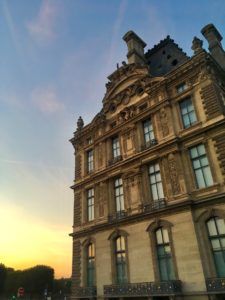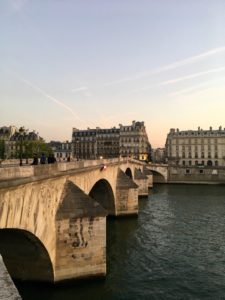 The next morning was an early start (as were all subsequent mornings). After a 7AM breakfast (served downstairs in what appeared to be tunnels like the catacombs) at the hostel which consisted of the perfect crispy-on-the-outside-soft-and-buttery-on-the-inside croissant, yogurt, tea and a baguette with jam that I packed away for lunch, I headed out to the Louvre to get some pictures before the crowds of tourists emerged from their hotels. It was a chilly, cloudless, sunny morning and I had no plans. I walked along the river, greeting joggers and dog walkers, and took deep breaths of this foreign, early fall air. I had never been so comfortable and happy to have nowhere to be and nothing to do. Around 10AM my wandering landed me at the foot of the Eiffel Tower, crème brûlée in hand, and so I sat down and enjoyed a second breakfast. I spent the rest of that morning sunbathing at Jardin du Luxembourg and snacking on macarons from Pierre Hermé. These gardens were unbelievable. With this brilliant sunshine bringing out the most vibrant color of every leaf and flower, the world looked so alive! Families strolled down the paths with strollers, friends got together at picnics, and everyone basked in the late summer sun.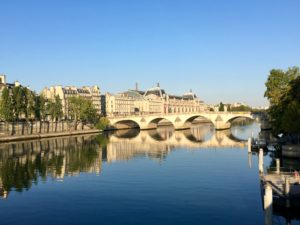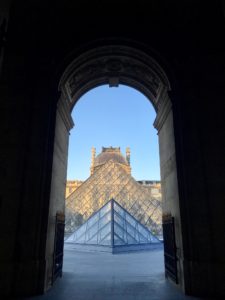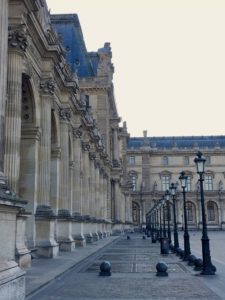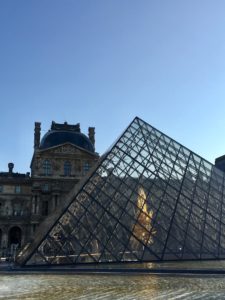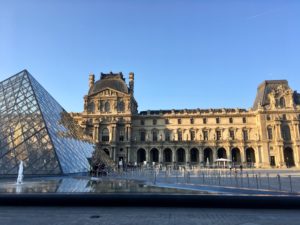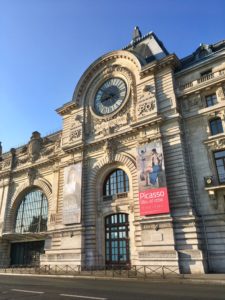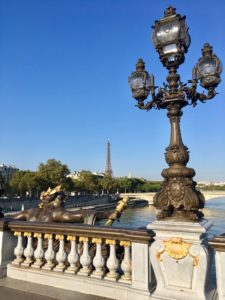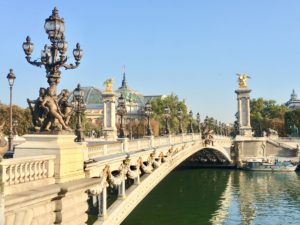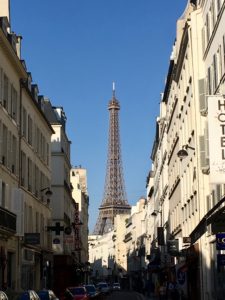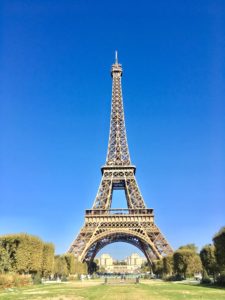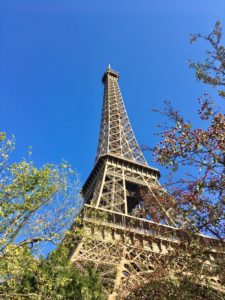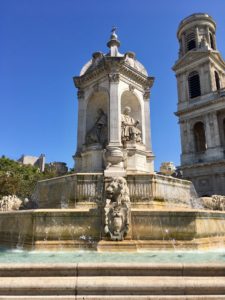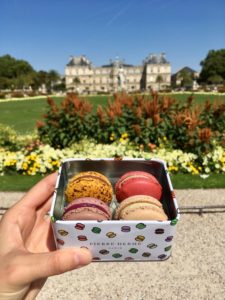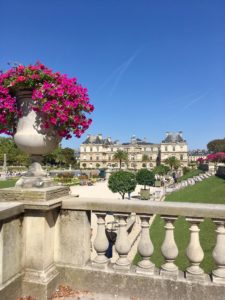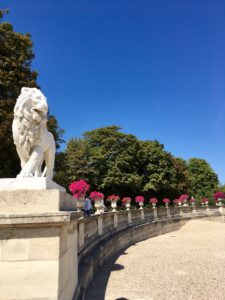 A little after noon, I made my way to Café de Flore for lunch. In the spirit of living like a local and honoring the time of day, I partook in ordering myself a flute of champagne which paired well with my melon and prosciutto appetizer. The rest of the afternoon was spent right there, sipping the day away and watching people go about their lives. I was fascinated by the fact that no check was forced on me the way it is back home. It was also in that moment that I fell in love with this little neighborhood called Saint-Germain-des-Prés. The way the sun shone brilliantly on the intricate buildings, the perfectly manicured streets and the laid-back atmosphere reminded me so much of my hometown in Florida, all I wanted was to never break this reverie. Not sure if it was the sunshine, the champagne or a combination of the two that made me feel this way, but I was certain of the fact that my heart now belonged to this little slice of paradise.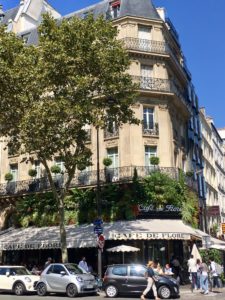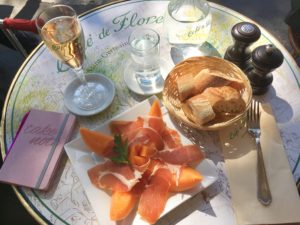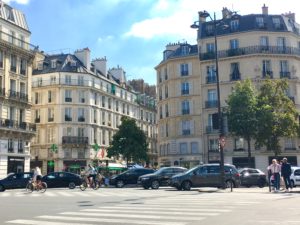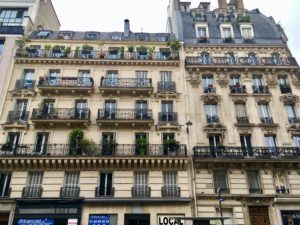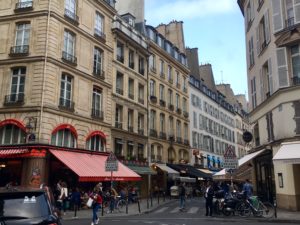 I spent the next morning in Montmartre, another incredibly charming neighborhood in the 18th arrondissement of Paris, admiring architecture, vintage shopping and writing at cafés. In the afternoon I returned to Saint-Germain-des-Prés, just to sip on champagne and people watch at Les Deux Magots, a café just next door to Café de Flore. Once again, I basked in the beauty of this picturesque neighborhood and its innate air of exclusivity (a quality that seems to resonate throughout Paris as a whole.) That evening I took myself out to dinner on a boat docked on the Seine. The sun was setting, casting a golden glow on the buildings along the river. The river shimmered in rays of light passing through the arches of bridges ahead like the Eiffel Tower at night. The evening felt perfect.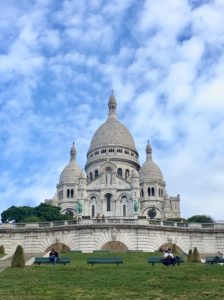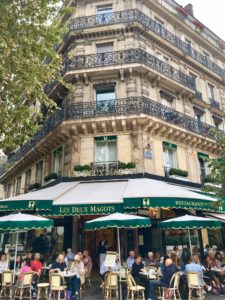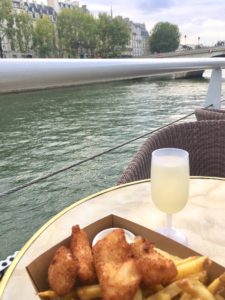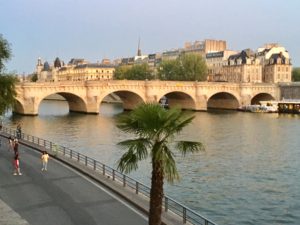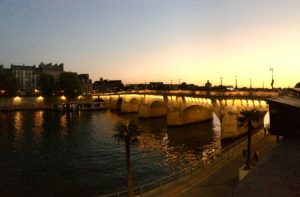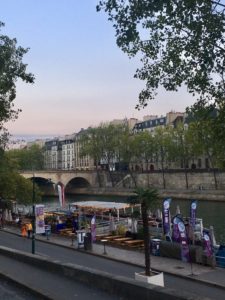 I made one more stop before heading back to the hostel for the night. I stopped by a supermarket and picked up a cheap bottle of rosé which I took back to the river. I was fascinated by how invigorating it felt to join the locals in the summer tradition of literally sitting on the edge of the Seine, enjoying some wine. I feel like back in Canada there would be railings and admission fees (and fines for open alcohol of course.) And as I sat there, I understood the allure of the riverside nights. Dinner on a boat on the Seine is beautiful. Sitting literally on the edge with your feet dangling above the river with your own 3 euro bottle of rosé, priceless.
On my last hour before departing for the airport I decided a proper au revoir was in order and so I took the last bit of rosé I had left and a croque-monsieur from the nearest supermarket and made one last picnic by the river. You didn't think I'd leave Paris without one final taste of the culture, now did you? I sat there in the sunshine, taking in the sights and just drinking the wild air.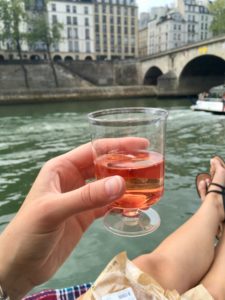 There were many things I though I wanted to do and missed out on, but in reality there turned out to be so many things I crossed off a list I never knew I had. I fell in love with Saint-Germain-des-Prés, I walked along the Seine on a summer night, I bought a bottle of wine at a grocery store that was cheaper than a block of butter in Toronto, I ate dessert for breakfast, lunch and dinner, I spent two hours just sipping a latte at a café, I took a macaron baking class and a wine tasting class in Paris, I watch the sunset from the top of Arc de Triomphe and I cleared an entire afternoon just to drink champagne in my new favorite neighborhood. All in all, there is something to be said about the appeal of Paris, especially through rosé colored glasses.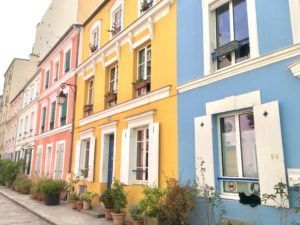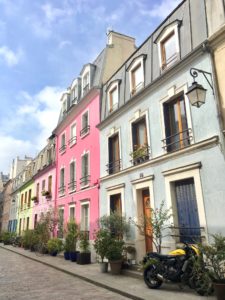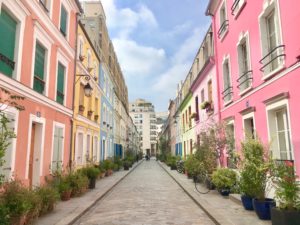 On and Around Île de la Cité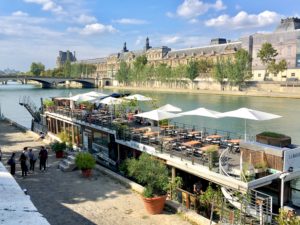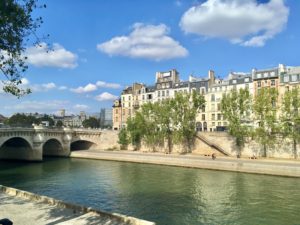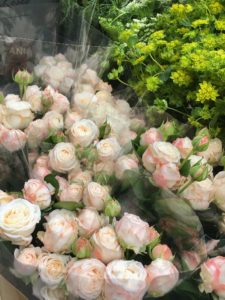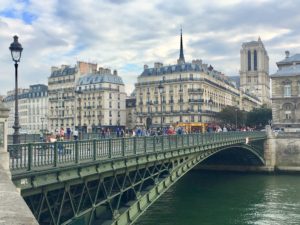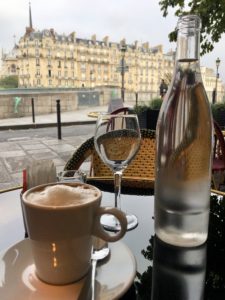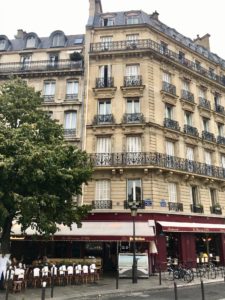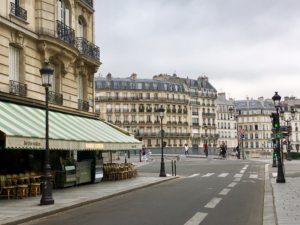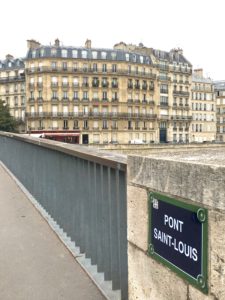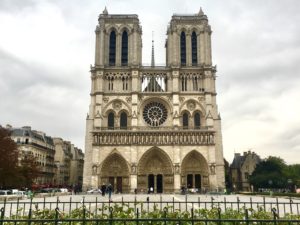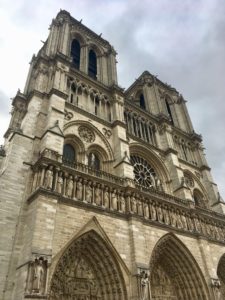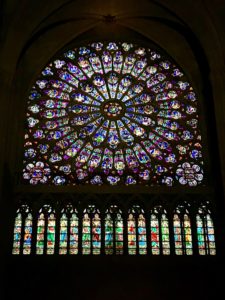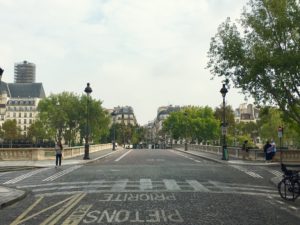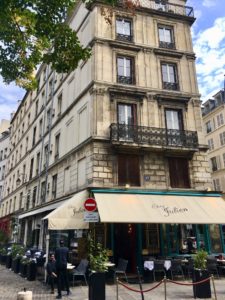 Trocadéro and Views from the Eiffel Tower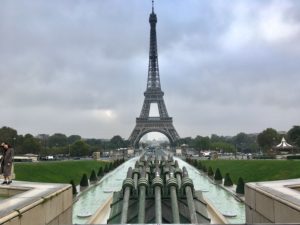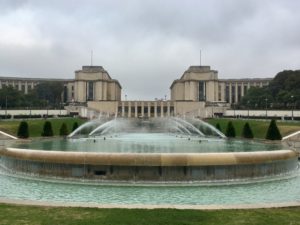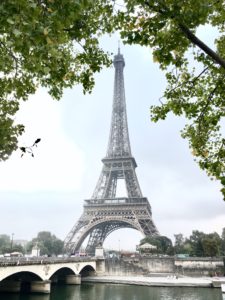 Champs-Élysées and Sunset on Arc de Triomphe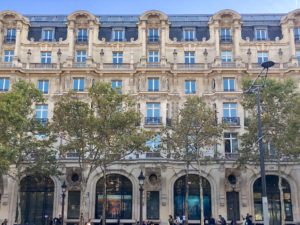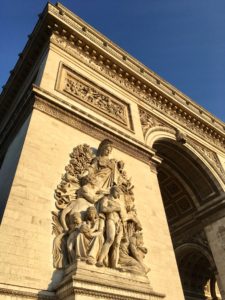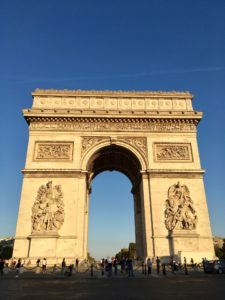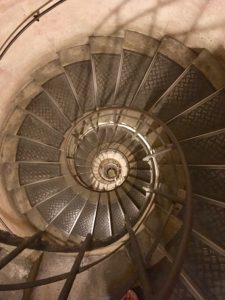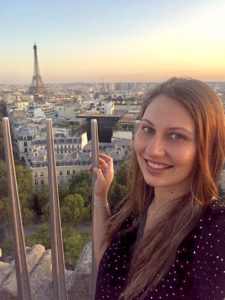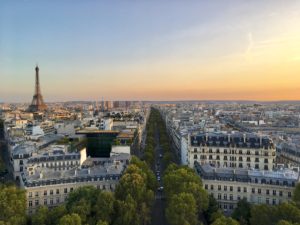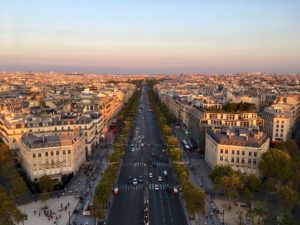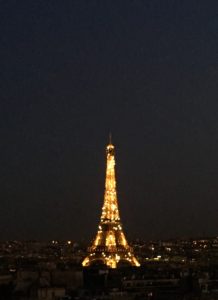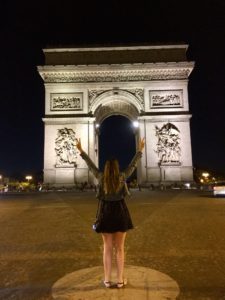 À bientôt!

P.S. – Thought this was cute: